We Welcome YOU to the 2021
AMBASSADORS APRIL FINALE TOURNAMENT
Registration Extended to Monday April 12 at 11:59 p.m.
A Stoa Tournament
Hosted by Ambassadors for Christ Speech & Debate Club
We are Ambassadors for Christ, God making HIS appeal through us. We implore you on behalf of Christ, be reconciled to God. II Cor. 5:20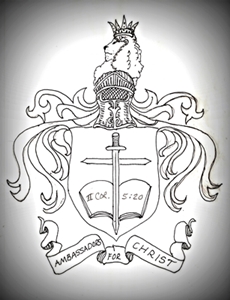 Thursday, April 29 - Saturday, May 1, 2021
Concord Road Church of Christ, 8221 Concord Rd, Brentwood, 37027
Map to Church: Concord Road Church of Christ
We are so excited to host you at the Ambassadors' April Finale Tournament. Please join us in praying for a tournament that will honor God, sharpen skills for HIS glory while developing new relationships and strengthen existing friendships!
REGISTRATION OPENS: Thursday, March 25, 2021 at 9:00 AM CST
REGISTRATION CLOSES: Monday, April 12, 2021 at 11:59 PM CST
SEE INFO ON REGISTRATION FEES, INCLUDING THE EARLY BIRD DISCOUNT, AT THE REGISTRATION & FEES TAB!
Except for illness, confirmed by a physician's note, there will be no refunds after registration closes. In addition, there will be a $10 drop fee if an event is dropped. Drops create a domino effect of extra work for staff because they affect room allocation, judging needs, awards orders, and award ceremony.
If you register for an event that is full, you will be placed on a waiting list. We may be able to open extra rooms for popular events, so please be patient as we determine whether or not it's possible to allow extra competitors. It is our goal to accommodate everyone who wishes to sign up. You will be notified as soon as space becomes available.
ELIGIBILITY
To meet Stoa's eligibility requirement and compete in this Tournament at the Senior Varsity level, SV students must agree with the Stoa Statement of Faith found at this link: Stoa Eligibility Requirements, be actively homeschooling (see the Stoa definition at the link above), be age 12-18 by October 1st of the current Stoa tournament season, have not previously graduated from high school, nor be in a full-time college-level degree program.
Junior Varsity students must be homeschooled and ages 8-12. Junior students must be 6 & 7 years old.
PARENT JUDGES
EACH registered family needs to have a parent judging for them every day of the tournament. Students will need to have their judge physically with them at check in. Parents are expected to remain at the event with your student. If you are unable to do so, you need to arrange for another adult to stay with them and meet their judging requirements. There is a field on the Student Registration page for this information.
MEALS
Lunch & Supper Options
Indicate your Lunch & Supper choices under Meal Options Tab
Senior Varsity Events
Partners: If you register for debate events that require partner(s), please confirm your partnerships before registration and make sure your partner(s) register prior to the registration deadline.
Use these links to confirm you clearly understand the Rules for each event along with the details of Script Submission for your Interps &/or Platform Speeches.
SV Debate Events
Team Policy
LD Value
Parli Debate
Self timing is required for all debate styles.
Senior Varsity Speech Events: All Stoa Speech Events
Links to the Stoa Rules, Ballots and information on each of the Stoa SV Speech Events are posted under each Speech Category TAB on the left.
PLEASE NOTE: SCRIPT SUBMISSION REQUIRED for SV Platform & Interpretive Events. See details & instructions at the Script Submission Tab.
SV Speech Events
Partners: If you register for any speeches that require partner(s), please confirm your partnerships before registration and make sure your partner(s) register before Registration closes.
SV Speech Patterns Please be aware that these Patterns may change based on the numbers of students registering for events, so in planning your tournament experience be sure to check our web site for updates and changes.
Speech Pattern A
Dramatic Interp.
Expository
Extemporaneous
Humorous Interp.
Mars Hill Impromptu
Non-Stoa Impromptu for 1st & 2nd Yr Students
Speech Pattern B
Apologetics
Duo Interp.
Open Interp.
Oratory Analysis
Original Oratory
Persuasive
Junior Varsity / Junior Speech Events, Ages 6-12
Partners: If you register for any speeches that require partner(s), please confirm your partnerships before registration and make sure your partner(s) register prior to close of Registration.
The Rules and Descriptions for the JV / Junior Speech events are listed for each event in the Speech Category TAB on the sidebar. Click each TAB to see these details.
JV / Junior Prepared/Memorized Platform Speeches
Platform Apologetics
Original Oratory (includes Persuasive)
Expository
JV Interpretive Speeches
Open Interpretive (includes Dramatic and Humorous)
Duo Interpretive (either Dramatic or Humorous)
Poetry Interpretation
Story Reading
JV Limited Prep
Impromptu
Salesmanship
Bible Story Impromptu
Junior Students, Ages 6 & 7
Younger students, ages 6 & 7, are welcome to compete in the Junior Varsity events listed above if they wish. To facilitate your younger students being allowed to compete you will need to email Margaret Tant, JV Tournament Director, at margarettant@gmail.com.
Please DO NOT call the Church office for any tournament information. Feel free to contact me, Lana Thornton, Tournament Director, with your questions, by email at: ambassador.tournament@gmail.com, or phone at 615-293-7140. Contact Maribeth Helton, Tournament Registrar by email at ambassador.tournament@gmail.com.
We look forward to seeing you at the Ambassador April Finale!!
Blessings,
Lana Thornton for Ambassador Club